Seneca.  Seneca was a Roman Stoic philosopher, statesman, dramatist born in 65 AD.  So he has some training that I don't, but I don't think he had the entire picture with the quote above.  I agree that luck requires preparation and opportunity but it also requires a certain fearlessness.

Take my start in the business world.  Straight out of 12 years of Catholic School (preparation) and a position as a personal assistant to the CEO and President of a real estate investment firm (opportunity) I excelled because I didn't know I could fail (fearlessness).  I was super lucky to land that job.  My boss appreciated my ability to anticipate his every need.  But trying to be prepared for every eventuality in his day, upcoming meeting or business trip, came natural to me.  He also gave me a ton of leeway.  When I realized I could be more productive if I had someone to do the follow up and take care of loose ends, he approved of me hiring my mother to be my assistant.  Mom (yup, that's her with me in the photo at top) was my first assistant and I've had a trusted helper by my side ever since.  I honestly don't think JBH&A would be as successful as it is if I didn't have an assistant.  Being able to know when I needed help and being able to ask for it has really made a difference in my life.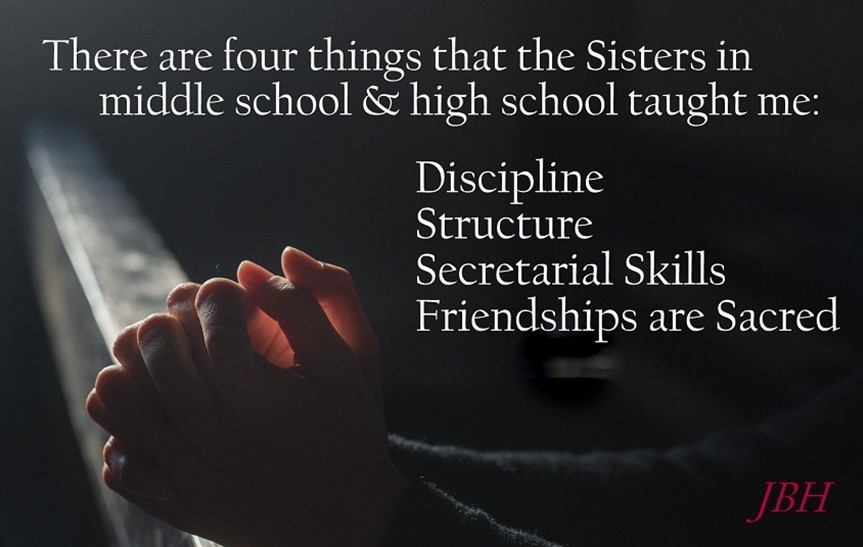 "Teamwork begins by building trust. And the only way to do that is to overcome our need for invulnerability."    – Patrick Lencioni
Fortunately, feeling vulnerable is not one of my defaults.  I learned early on to gather all the information, create a strategy and do what I could to see it through.  That's the kind of fearlessness that I am talking about.  It's that pluckiness that allowed me to trust boldly, and in many ways, made team building effortless.
If you don't have a personal assistant, take a five minute break and just meditate on what you could get done if you had a trusted ally running errands, confirming appointments and catching up on QuickBooks.  If you want to discuss what JBH&A can do for you, personal assistant or an administrative assistant, virtual or in-person, give me a call.  I would love to talk with you about the possibilities.
Last quote here:
"It is the long history of humankind (and animal kind, too) that those who learned to collaborate and improvise most effectively have prevailed." – Charles Darwin
In brief: JBH&A is here to help you be prepared, create opportunities, prevail at all times and be lucky!
Have a Magical Day!
Jane
CEO, Jane Barr Horstman & Associates